Hip Replacement Surgery
Diagnosis and treatment of hip pain
Your joints are involved in almost every activity you do. Movements such as walking, bending and turning require the use of your hip and knee joints. When your hip becomes diseased or injured, the resulting pain can severely limit your ability to move and work.
One common cause of hip pain is Osteoarthritis (OA). OA is sometimes called degenerative arthritis because it is a "wearing out" condition involving the breakdown of cartilage and bones. With osteoarthritis, the cushioning cartilage at the end of the femur may have worn down, making walking painful as bone rubs against bone.
Pain from arthritis and joint degeneration can be constant or come and go, occur with movement or after a period of rest, or be located in one spot or many parts of the body. If you haven't experienced adequate relief with medication and other conservative treatments, hip replacement may provide you with relief from your arthritis.
Surgery
Total Hip Replacement surgery involves the removal of arthritic bone and damaged cartilage, and replacing them with hip implants that are designed to replicate the hip joint. During surgery, the femur (head of the thigh bone) is replaced with a metal stem and the acetabulum (hip socket) is fitted with a metal cup. The arti cial ball is placed on a metal stem, and the artificial socket is lined with polyethylene (a durable plastic).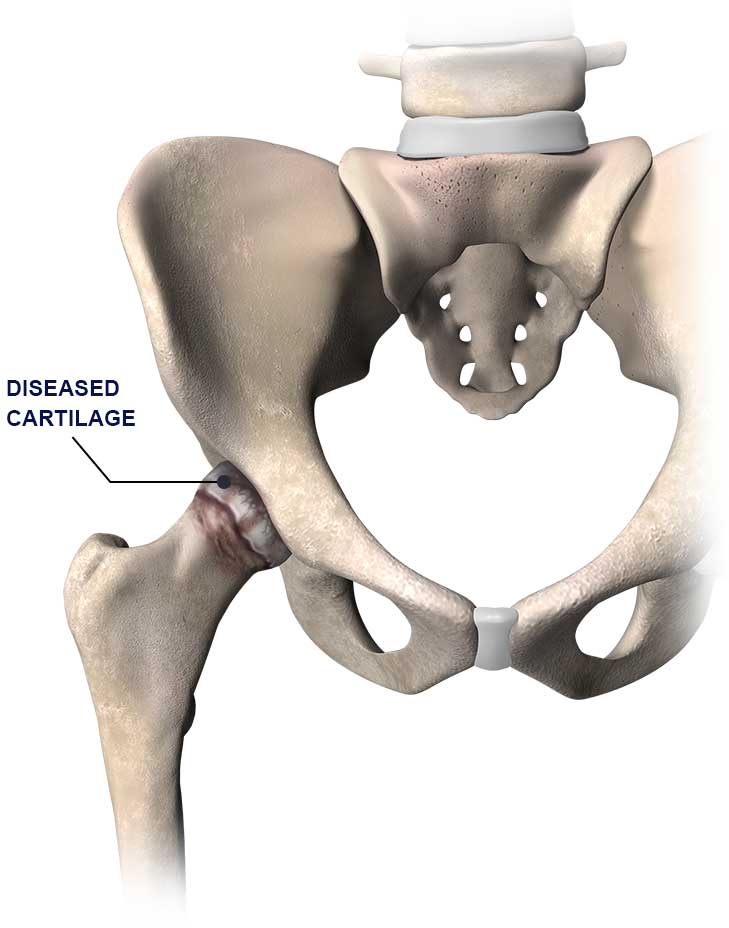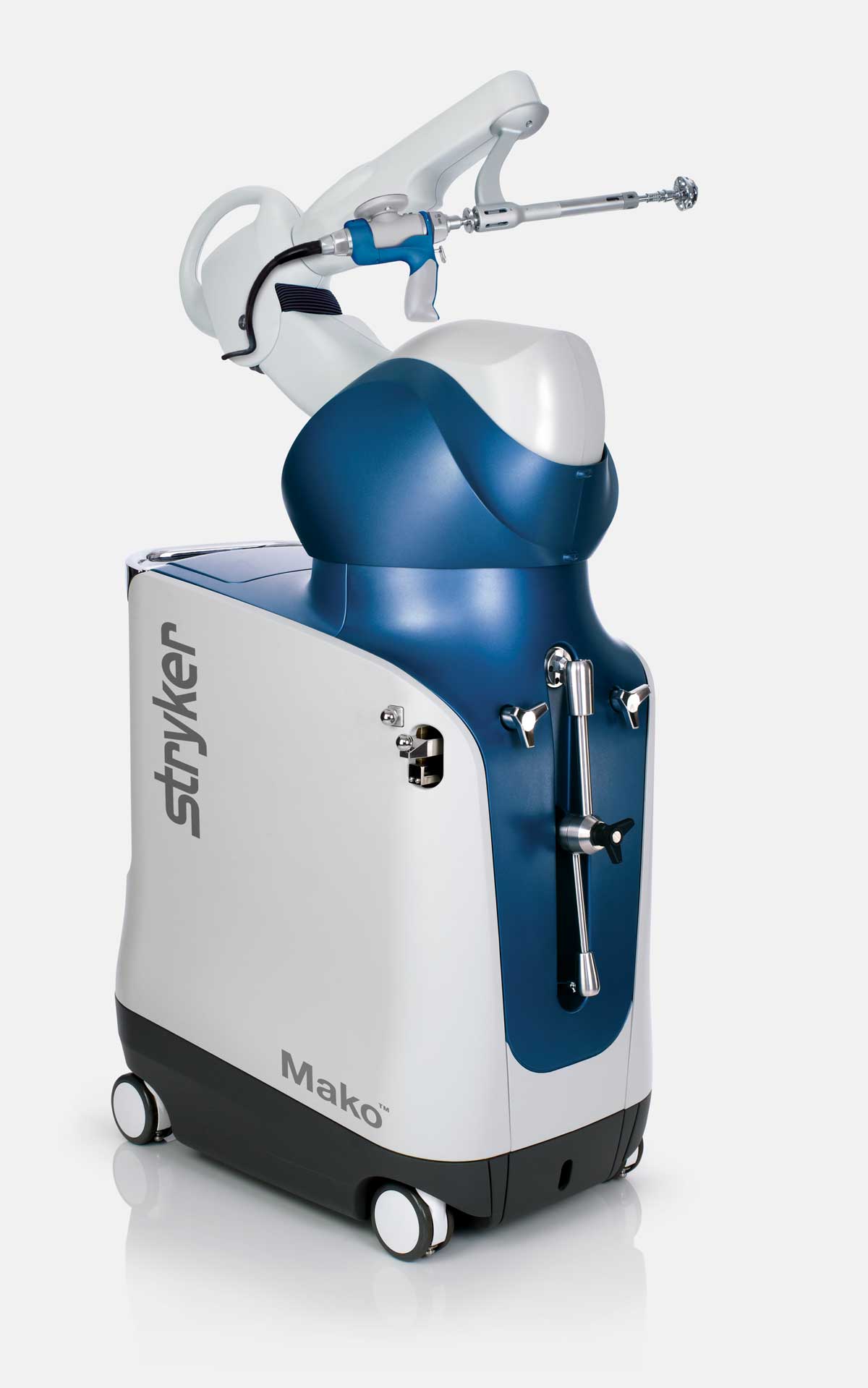 Robotic Assisted Surgery
About Mako Robotic-Arm Assisted Technology
Mako Robotic-Arm Assisted Technology provides you with a personalized surgical plan based on your unique anatomy. First, a CT scan of the diseased joint is taken. This CT scan is uploaded into the Mako System software, where a 3D model of your hip is created. This 3D model is used to pre-plan and assist your surgeon in performing your total hip replacement.
In the operating room, your surgeon follows your personalized surgical plan while preparing the bone for the implant. The surgeon guides the robotic-arm within the pre-defined area and the Mako System helps the surgeon stay within the planned boundaries that were defined when the personalized pre-operative plan was created. This helps to provide more accurate placement and alignment of your implant.8,9
Mako Robotic-Arm Assisted Total Hip replacement is a surgical procedure intended for patients who suffer from non-inflammatory or inflammatory degenerative joint disease (DJD). Some forms of DJD include osteoarthritis (OA), post-traumatic arthritis, rheumatoid arthritis (RA), avascular necrosis (AVN) and hip dysplasia.
The Mako difference — In clinical studies, Mako resulted in:1-7
More accurate placement and alignment of hip implants based on the surgical plan.
Less likelihood of hip dislocation
Reduced blood loss & preservation of healthy bone
Replication of the feeling of a natural hip
It's important to understand that the surgery is performed by an orthopaedic surgeon, who guides the surgeon-controlled robotic-arm during the surgery to position the implant in the hip joint. The Mako Robotic-Arm does not perform surgery, make decisions on its own, or move without the surgeon guiding the robotic-arm. The Mako System also allows your surgeon to make adjustments to your plan during surgery as needed.
Minimally Invasive Hip Replacement
Direct Anterior Approach
Your surgery may be performed using the Direct Anterior Approach, a minimally invasive surgical technique used in total hip replacement. This technique may be associated with:
1   reduced muscle damage
2   reduced pain
3   faster post-operative recovery
What are the differences between the Direct Anterior Approach and a traditional hip replacement? One difference is the location of the incision. During a traditional hip replacement, the surgeon will operate on the patient from the side. Using the Direct Anterior Approach, the surgeon operates on the patient from the front.2 Another difference is the length of the incision. Traditional hip replacement may require an 10-12 inch incision 3 while the incision used in the Direct Anterior Approach may be 3-4 inches in length.
Frequently Asked Questions
If you have additional questions, please call our office at:
(817) 335-4316
We understand that making sure your hip replacement is covered by health insurance is important to you. Check with your health insurance provider to verify your specific coverage.
The first Mako procedure was a partial knee replacement performed in June of 2006. Since that time, over 83,000 Mako hip and knee replacement procedures have been performed around the world.
No, the robotic-arm doesn't perform surgery, nor can it make decisions on its own or move without the surgeon guiding it.
Individual results vary and not all patients will have the same postoperative recovery and activity level. The lifetime of a hip replacement is not infinite and varies with each individual.
IMPORTANT INFORMATION
Mako hip replacements
Hip joint replacement is intended for use in individuals with joint disease resulting from degenerative and rheumatoid arthritis, avascular necrosis, fracture of the neck of the femur or functional deformity of the hip.
Joint replacement surgery is not appropriate for patients with certain types of infections, any mental or neuromuscular disorder which would create an unacceptable risk of prosthesis instability, prosthesis fixation failure or complications in postoperative care, compromised bone stock, skeletal immaturity, severe instability of the joint, or excessive body weight.
Like any surgery, joint replacement surgery has serious risks which include, but are not limited to, pain, bone fracture, change in the treated leg length (hip), joint stiffness, hip joint fusion, amputation, peripheral neuropathies (nerve damage), circulatory compromise (including deep vein thrombosis (blood clots in the legs)), genitourinary disorders (including kidney failure), gastrointestinal disorders (including paralytic ileus (loss of intestinal digestive movement)), vascular disorders (including thrombus (blood clots), blood loss, or changes in blood pressure or heart rhythm), bronchopulmonary disorders (including emboli, stroke or pneumonia), heart attack, and death.
Implant related risks which may lead to a revision of the implant include dislocation, loosening, fracture, nerve damage, heterotopic bone formation (abnormal bone growth in tissue), wear of the implant, metal sensitivity, soft tissue imbalance, osteolysis (localized progressive bone loss), audible sounds during motion, and reaction to particle debris.
The information presented is for educational purposes only. Speak to your doctor to decide if joint replacement surgery is appropriate for you. Individual results vary and not all patients will return to the same activity level. The lifetime of any joint replacement is limited and depends on several factors like patient weight and activity level. Your doctor will counsel you about strategies to potentially prolong the lifetime of the device, including avoiding high-impact activities, such as running, as well as maintaining a healthy weight. It is important to closely follow your physician's instructions regarding post-surgery activity, treatment and follow-up care. Ask your doctor if robotic-arm assisted surgery is right for you.
Stryker Corporation or its other divisions or other corporate affiliated entities own, use or have applied for the following trademarks or service marks: Mako, Stryker. All other trademarks are trademarks of their respected owners or holders.
References
Domb BG, El Bitar YF, Sadik BS, Stake CE, Botser IB. Comparison of Robotic-assisted and Conventional Acetabular Cup Placement in THA: A Matched-Pair Controlled Study., Clin Orthop Relat Res. 2014 Jan;472(1):329-36.
Illgen R. Robotic Arm Assisted THA Improved Accuracy, Reproducibility, and Outcomes Compared to Conventional Technique. 43rd Annual Course: Advances in Arthroplasty, October 22-25, 2013, Boston, MA..
Bukowski, B.; Abiola, R; Illgen R. Outcomes after primary total hip arthroplasty: Manual compared with robotic assisted techniques. ; 44th Annual Advances in Arthroplasty; Cambridge, MA. October 7-10 2014..
Bukowski BR, Anderson P, Khlopas A, Chughtai M, Mont MA, Illgen RL Improved Functional Outcomes with Robotic Compared with Manual Total Hip Arthroplasty. Surg Technol Int. 2016 Oct 26;XXIX:303-308..
Itay Perets, John P. Walsh, Mary R. Close, Brian Mu, Leslie C. Yuen and Benjamin G. Domb. Robotic-Assisted Total Hip Arthroplasty – Clinical Outcomes and Complication Rate. SPEAKER: Itay Perets.
Suarez-Ahedo, C; Gui, C; Martin, T; Chandrasekaran, S; Domb, B. Robotic-arm assisted total hip arthoplasty results in smaller acetabular cup size in relation to the femoral head size: A Matched-Pair Controlled Study. Hip Int. 2017; 27 (2): 147-152..
Nawabi DH; Conditt MA; Ranawat AS; Dunbar NJ; Jones, J; Banks S, Padgett DE. Haptically guided robotic technology in total hip arthroplasty – A cadaveric investigation. Journal of Engineering in Medicine. December 2012;227(3):302-309.
Nawabi DH, Conditt MA, Ranawat AS, Dunbar NJ, Jones J, Banks SA, Padgett DE. Haptically guided robotic technology in total hip arthroplasty - a cadaver investigation. Proc Inst Mech Eng H. 2013 Mar22 7(3):302-9
Illgen R. Robotic assisted total hip arthroplasty improves accuracy and clinical outcome compared with manual technique. 44th Annual Advances in Arthroplasty Course. October 7-10, 2014, Cambridge, MA.F
MKOHMT-PE-3_Rev-1_13841
Copyright © 2017 Stryker Corporation
Used with permission by Texas Health Care Fort Worth Bone and Joint Clinic