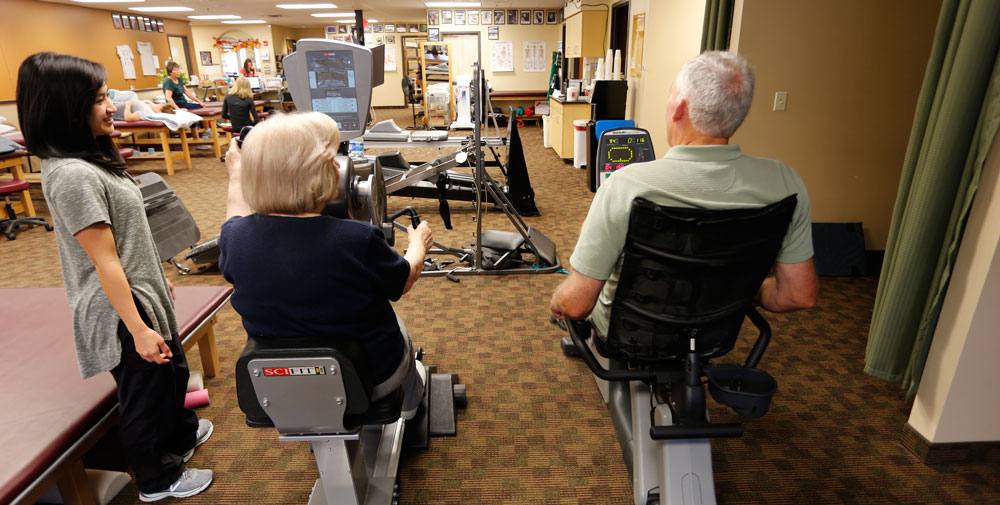 The Physical Therapy & Sports Medicine Program at Texas Healthcare Bone and Joint is designed to return you to pre-injury functional levels as soon as it is safely possible. Through a collaborative effort between physician, therapist, and patient, your program will incorporate both passive and active interventions with a focus on treating the cause of your injury and not only the symptoms.
Get to know the physical therapy staff

 PT Staff
The staff has over 40 years of combined clinical experience and routinely treat over 1,000 new patients each year. The clinic also has several specialty areas besides treating general musculoskeletal injuries. Since 1991, we have provided athletic training services and rehabilitation to the Texas Ballet Theater, worked with Metropolitan Classical Ballet and numerous area performing arts schools. We have also provided coverage for many touring productions including The Lion King, AIDA, and Lord of the Dance.
The Women's Services Program focuses on issues specific to women, including pre-partum and post-partum pelvic alignment dysfunction, pelvic floor dysfunction, and incontinence. We are one of the few offices in town with a therapists who possesses a certificate in Women's Health.
Throwing athletes also receive extensive biomechanical analysis to identify potential errors that can lead to chronic shoulder and elbow injuries. Graduated throwing programs are available to get you back on the field as soon as possible.
Orthotic intervention to correct foot and lower extremity pain is also a clinical specialty at a very cost effective level. By identifying underlying pathologies and correcting them many athletes and runners have been allowed to return to these activities without continued pain.
If you would like more information about any of the programs at Texas Healthcare Bone and Joint physical therapy and sports medicine please give us a call at (817) 810-0001.